I meant to publish this post earlier but it took me some more time to put it together because I wanted to make one really really good NYFW overview. I've never done anything like this before but since I got lots of free time right now I was able to stay updated with all the news from the New York catwalks. The funny thing is as soon as I left NYC, fashion week kicked off so keeping up with the new collections (thanks to
style.com
) was a way for me to still feel like I'm being up to date with the city's flow.
I've never experienced fashion week up close, but it always gave me this impression that it is one big celebration of the "inexhaustible variety of life", as Fitzgerald eloquently puts it, and what better city to host this variety other than New York.
Overall, I thought this fashion week was a hit. My list of favorite collections for Spring 2014 is far longer than my list for my least favorite collections. I believe many designers managed to maintain a steady progress, a great deal of them presented some exceptional pieces, some underwhelmed but didn't particularly disappoint and a few were just really bad.
Let's start, shall we:
THE GOOD:
Victoria Beckham
Okay, leave it to Victoria Beckham to present a perfectly put together collection with modern accents. What I love about Mrs. Beckham is her ability to create clothes that people are gonna wear. I love an artsy, complicated, mysterious collection BUT I think there is a certain art in making practical, flattering, wearable clothes that still make heads turn. I loved the geometry in this collection, the simplicity, the pleats, the flares. You could see this was a collection for the girly type of girl who is maturing and growing into a confident young woman. And there's nothing that I love more than a collection that conveys female empowerment.
Michael Kors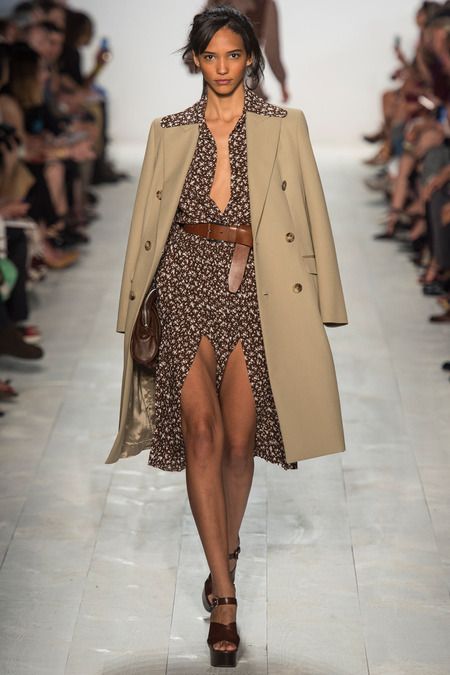 Michael Kors is a classic. I mean, who am I to judge Michael Kors? The guy knows his craft. He knows women, he knows the market, he knows fabrics, he knows shapes and tailoring and hemlines. Again, a wearable, simple yet stunning collection. I loved the florals in earthy tones, it was kinda nice to stay off the bright pinks and yellows and oranges for once and go for a tan two-piece with a white floral print. Halfway through the collection I felt that a lot of looks were made for the cold early spring days (there was fur, coats and all in a rather wintry palette) which is kind of refreshing and considering the fact that spring collections hit the stores in late winter, why not?
Marc Jacobs
Marc Jacobs always has something new to say through his clothes. For the average buyer the message doesn't always read right away but his devoted fans almost never feel let down. There was something eerie about this collection which I think will appeal to loads as the allure of darkness seems to acquire a massive audience now more than ever. This dress was my personal favorite -although not very spring-ish - with its dark floral pattern and sheer long sleeves. Pulling it off though will be a challenging task for whoever picks it.
Badgley Mischka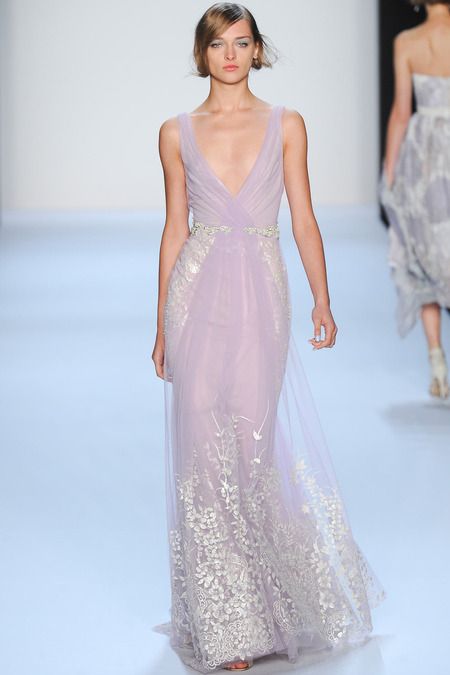 Badgley and Mischka know beautiful, feminine, luxurious, sexy clothes. There's no doubt about that. It's what you expect. You don't expect them to go all-Alexander Wang on you. That's what they know how to do and they do it so well. Sometimes a girl needs her pretty frocks. Her
expensive
, high end pretty frocks. Sometimes the Hollywood star needs her classic classy beautiful, flowy gown. And Badgley Mischka are there to deliver it. I mean how gorgeous is this lilac gown? No words.
Helmut Lang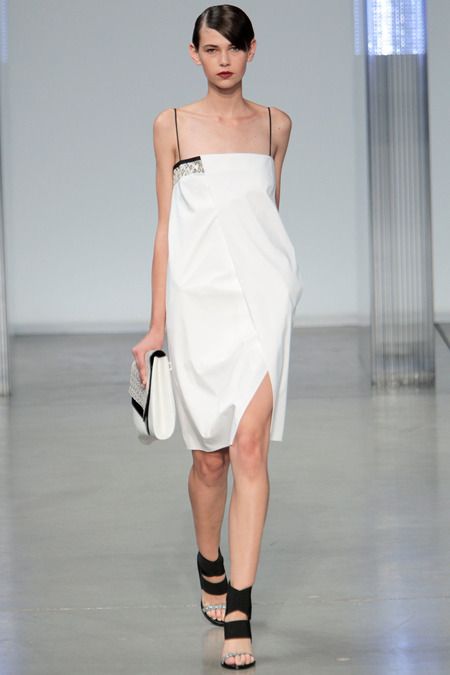 One of these collections that are exactly to the point. No fuss, nothing less and nothing more than what it ought to be. This dress probably is one of the big winners. It's just so elegant and sits so well on the model's body, you just WANT to own it really bad. It sums up everything that summer should be: easy, effortless, cool, bright, fresh. And these shoes, couldn't have been a better choice.
Derek Lam
Derek Lam was also in the same category with the designers that delivered fresh, summery clothes on the runway. Very Hampton-esque if you ask me. This gingham dress has a silhouette so flattering it's your perfect summer dress. You can dress it up, you can dress it down and that equals a versatile item that you will take out of the closet multiple times. And I think we are in need of these clothes that will stand the test of time, not impulse-buys that will be thrown away next season.
Alexander Wang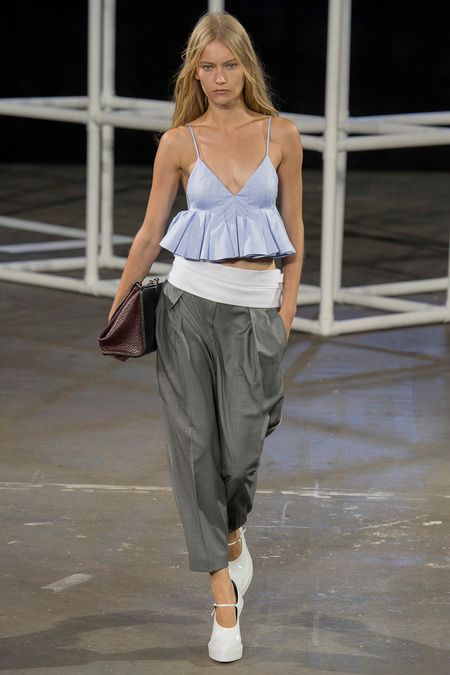 Coolness everywhere. It was really hard to pick only one look because each outfit radiated a different coolness, a different vibe, a different "newness", if I am allowed to use that word. This one was among my personal favorites and what I would choose to wear. So effortless, girly but boyish too. Fun, hip, urban. So many words that can describe this collection. Perhaps not the most representative look from the collection though. The "Parental Advisory" sweater will definitely sell and so will the pieces with the "Alexander Wang" logo printed on them.
and now... THE BIG WINNER:
Altuzarra
When I really love a collection I find it so hard to express myself as eloquently as I would want to. If you could hear me, you would hear the squeaks of a 4 year old. SO. GOOD. (there, see how eloquently I put it?) Mr. Altuzarra really pleased the fashion-savvy crowds with this wonderful, sexy, powerful collection. Everything gave off luxury, as lush fabrics flowed on the runway. Dresses made of liquid silver and gold were as good as evening wear gets, but for me the head-turners were those unbuttoned silky shirts tucked in beautiful midi, pencil skirts. A new take on day wear. Radiant, strong, beautiful.
THE BAD:
Prabal Gurung
Okay, Prabal
Gurung
wasn't that bad.
Some looks were more decent than others.
But this one just didn't feel right. It doesn't look pretty or expensive and most of all it's hardly wearable. I mean why would anyone wear a plastic skirt? It doesn't make any sense.
Delpozo
Don't get me
wrong
.
This
is not an ugly look. It'
s
just not ready to wear.
It's couture. A
nd that look was actually pretty tamed compared to some gigantic puffy skirts. There were some daywear options though that were really good.
Milly
What happened to the Milly we know and love? I was really unhappy
with this collection. Where did my Blair Waldorf-esque looks go?
All I got was
the same print over and over again and some trashy net that was featured in every single look and I don't know why.
I know sex sells but chez Milly I expected more class.
and now.. THE BIG LOSER:
Rodarte
Do not even get me started on this one.
This has 'wrong' written all ove
r it
.
I
t looks cheap. I wonder who will spend thousands of dollars on these dreadful pieces you could make at home with glitter, paper and scissors.
There's nothing new or original about it. Just plain trashy. Let's hope that was one simple faux pas that will not be repeated.
THE TRENDS:
Geometry Lessons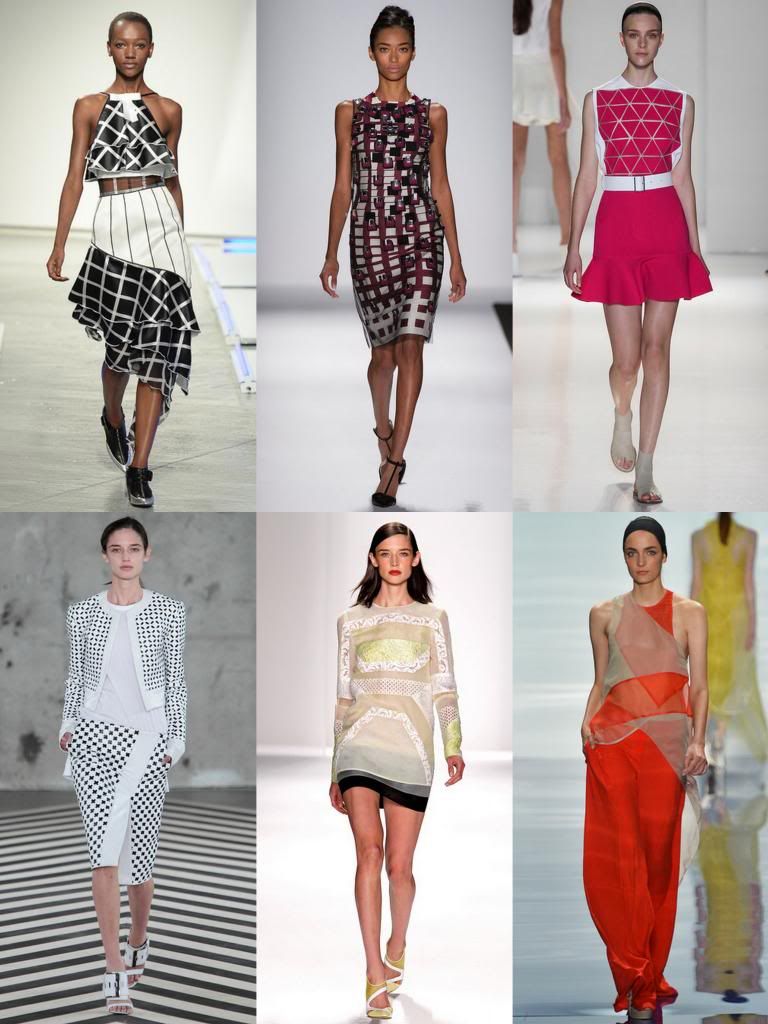 (Top row: Rodarte, Carolina Herrera, Victoria Beckham / Bottom row: Edun, J. Mendel, Vera Wang)
50 shades of black and white
(Top row: Tibi, Prabal Gurung, Yigal Azrouel, Altuzarra / Bottom row: Diane Von Furstenberg, Derek Lam, Alice + Olivia, Badgley Mischka, Oscar De La Renta)
Mother Earth
(Top row: DVF, Delpozo, The Row / Bottom row: 3.1 Phillip Lim, Michael Kors, Anna Sui)
Effortlessness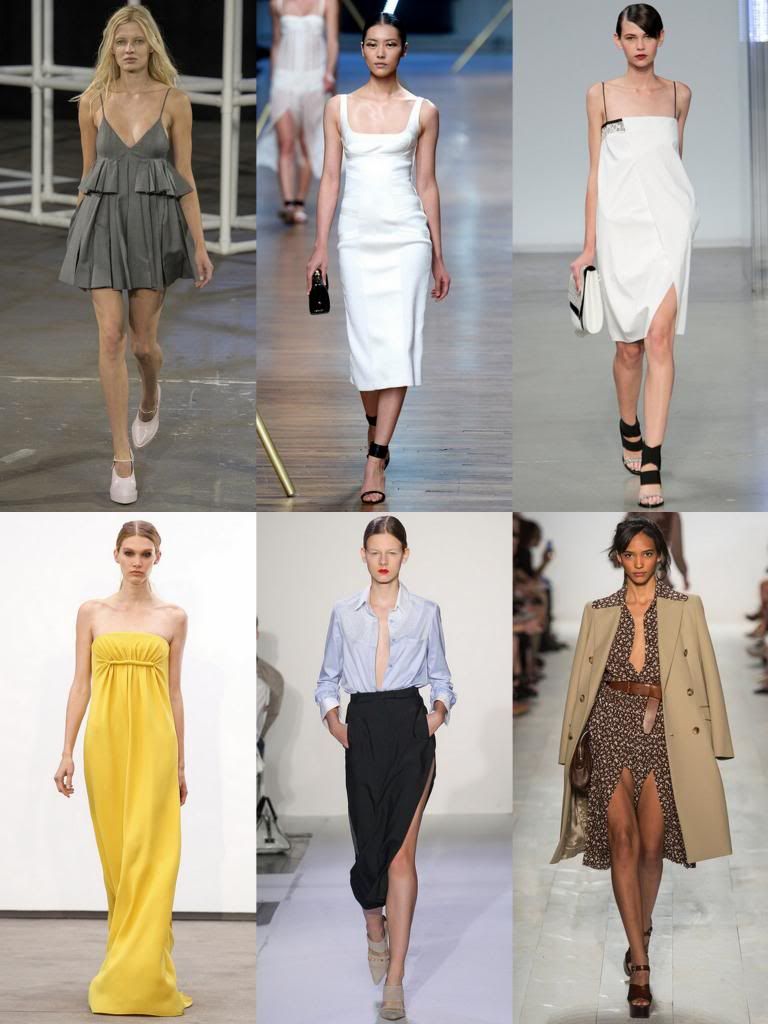 (Top row: Alexander Wang, Jason Wu, Helmut Lang / Bottom row: Derek Lam, Altuzarra, Michael Kors)
Crossed the line:
(Yigal Azrouel, Kaufmanfranco, Dion Lee, Zac Posen)
BEAUTY: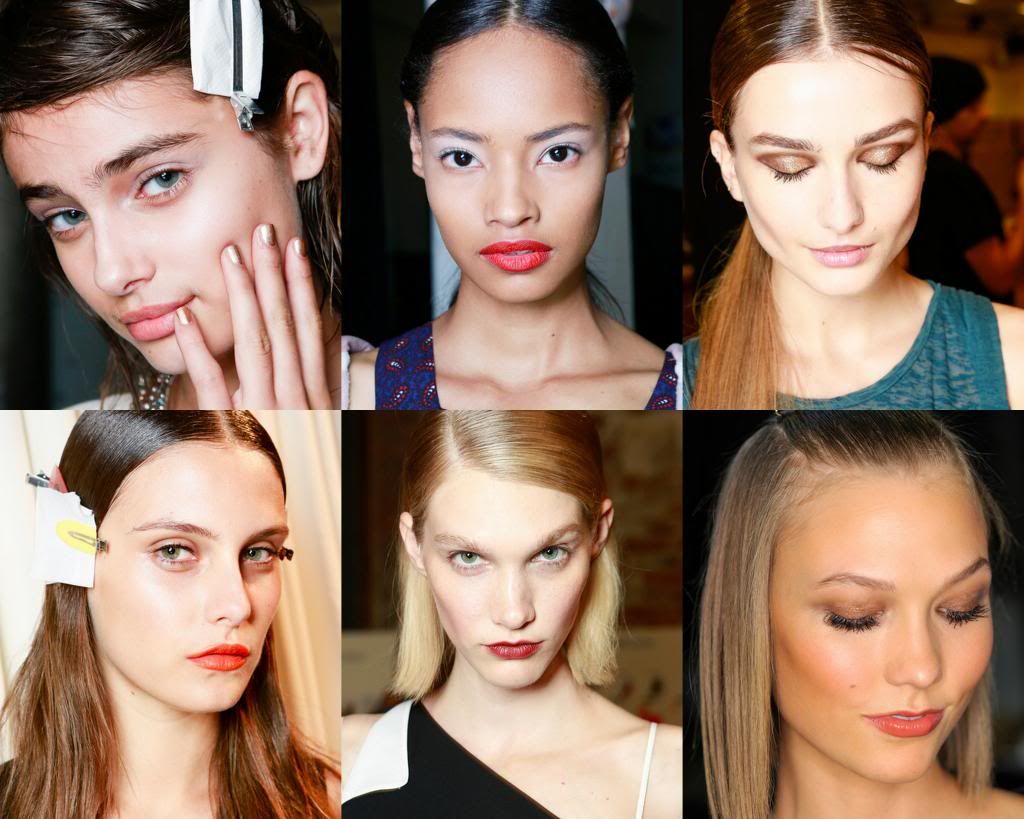 (Top row: 3.1 Phillip Lim, Altuzarra, Jason Wu / Bottom row: Rag & Bone, Helmut Lang, Donna Karan)
Hope you enjoyed this post! Tell me all your thoughts!
xoxo,
A
[photo courtesy: style.com / written content is 100% mine]