Oh la la! Paris, the fashion capital of the romantics hosted another quite long fashion week and had a lot of surprises coming. Marc Jacobs presented his last and rather impressive collection for the house of Louis Vuitton. Raf Simons presented another collection that got people raving or hatin'. So did Stella McCartney. Now, as the season wraps, the trends really start to read and fashion readers worldwide will brace themselves for the trend reports and editorials that are coming like a storm.
I know I didn't recap Milan fashion week but it was really overwhelming to keep up with everything so I decided to do a well-rounded review on Paris fashion week instead.
Paris is like a European dream. I've never been there which is quite unfortunate since I studied french for a long time and just finished last year, so french culture is something that I'm proud to say I'm familiar with. La parisienne is a lady that is chic, elegant, romantic, loves to walk by La Seine and eat macarons at La Duree but most of all she's refined in a simple way. Paris isn't about the fuss. Paris is about grace.
Let's take a look at my personal faves and what I consider to be misses:
THE GOOD:
Chanel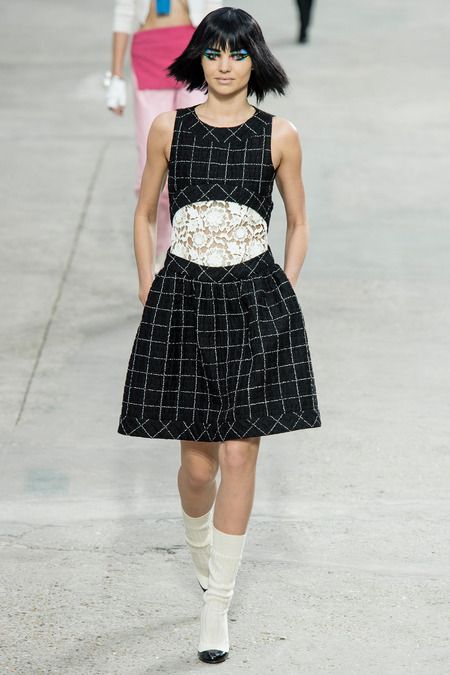 What is a Paris fashion week or Paris in the first place, without some Chanel? Perhaps the most distinctive french brand. Lagerfeld wowed the crowds again with this beautiful and inspired collection. Black and white held strong once again, so did tweed, but it was quite nice to see some multicolored garments featuring all the colors of the prism. In the picture above, you can see a pretty B&W dress with lace all over the belly area which I found to be a nice touch to a rather classic frock.
Chloé
The casual take on summer apparel. Nice fabrics, ruffles and pleats made their way to the runway leaving an easy, effortless impression on the audience. This look was my favorite because of its streetstyle appeal and its subtle but sexy radiance.
Valentino
Valentino is a personal preference. I don't know if this collection truly was as great as I found it to be, but I really cannot resist all that lace and those pretty girly collared dresses with their embroideries which almost give off a folky, traditional feel. Plus, I loved the palette and the bright jacquard against the rich black font (not featured in the look above) Spectacularly respective of the house's legacy but refreshingly innovative at the same time.
Collette Dinnigan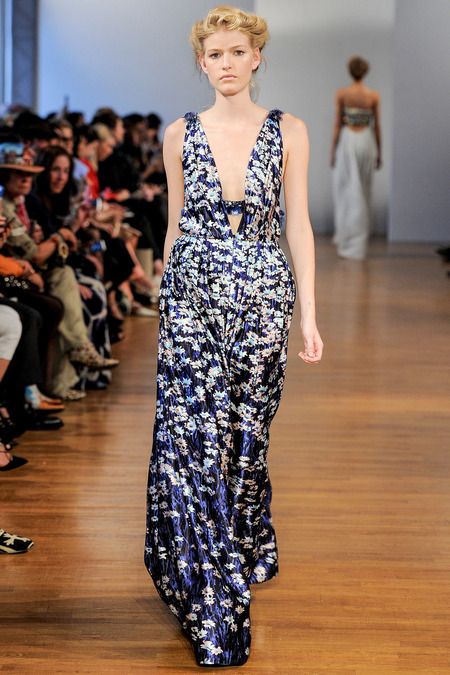 Collette Dinnigan is a designer that I hadn't really paid any significant amount of attention to before but this collection really satisfied me. More than, actually. Pretty floral appliques embellished gorgeous flowy dresses, but there was a very french simplicity to those embellished or printed dresses which sounds a bit contradictory but is very true nonetheless. Some of these could be seen at a summer wedding which is so romantic and I'm a sucker for romance.
Nina Ricci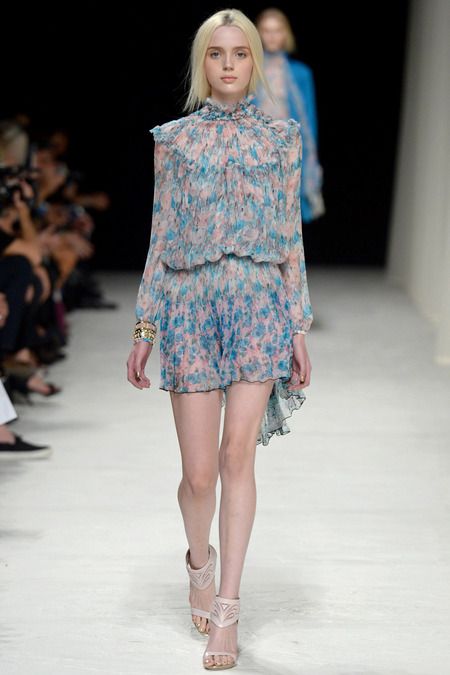 Ultra-feminine but not in a sugar coma way. There were some more boyish accents thrown in there too. Nice flattering silhouettes paraded on the runway but what I was most appreciative of was the wearability and the day-to-night versatility of most of these looks. The florals came last but definitely not least and made heads turn.
THE BAD:
Roland Mouret
Some raved about this collection. Maybe more experienced editors can really see it through and understand its appeal. For me, that was not exactly the case. I tried to but however I failed. This assortment of color blocks I didn't get at all. In what way is it flattering? It looks like a kid's arts and crafts project to me. This collection wasn't a miss on its whole as there were some cute looks in there as well but was not entirely pleasing either.
Carven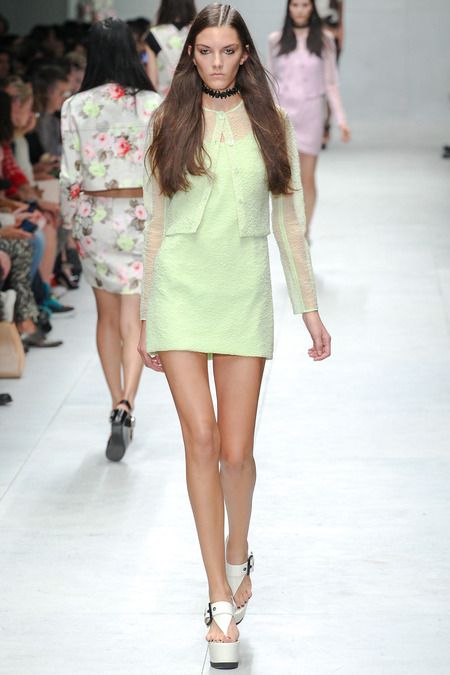 This one I found to be the worst. There was obviously -almost too obviously- a 90's mall-girl theme going on there. You see, I understand the appreciation for some certain eras in fashion history. I do however think that some fashion trends that dominated previous decades are not to be revisited. Like, those plastic chokers? Matchy-matchy dresses and cardis? These do not belong in 2014. I also have this pretty serious conviction that the reference in a collection should not be the collection itself because it becomes more like a theme and defeats its 'inspirational' purpose.
THE TRENDS:
Floral explosion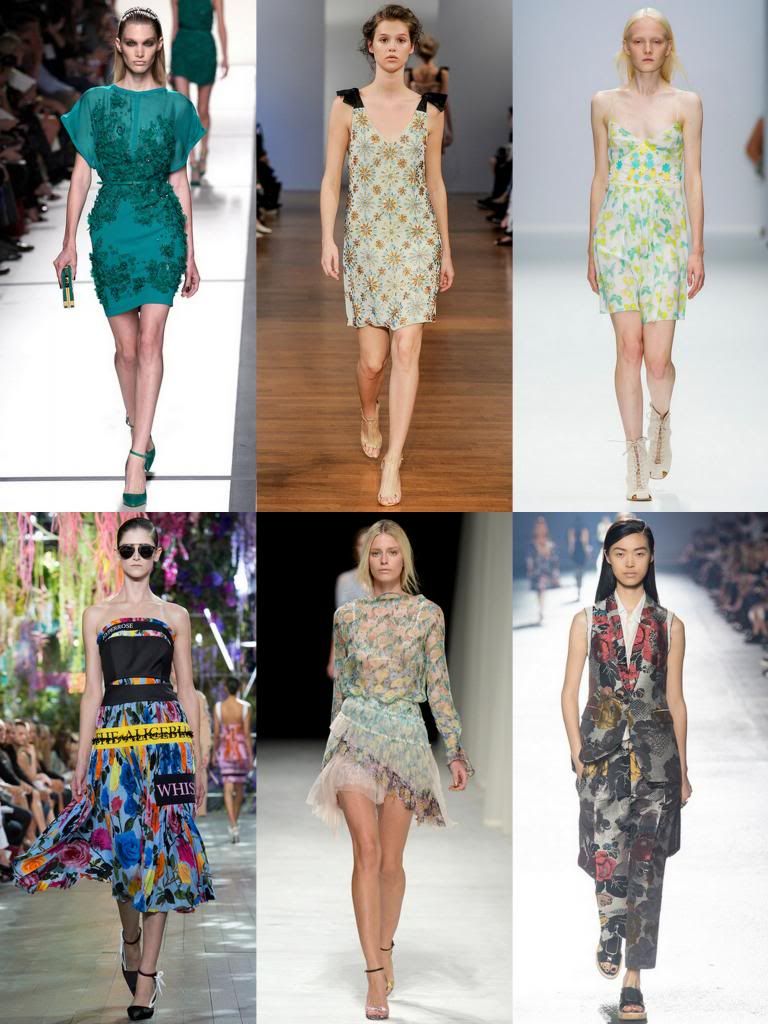 (Top row: Elie Saab, Collette Dinnigan, Vanessa Bruno / Bottom row: Christian Dior, Nina Ricci, Dries Van Noten)
Pleats, please
(Top row: Givenchy, Viktor & Rolf, Carven / Big picture: Christian Dior / Bottom row: Alexander McQueen, Balmain, Celine)
Pretty in fuchsia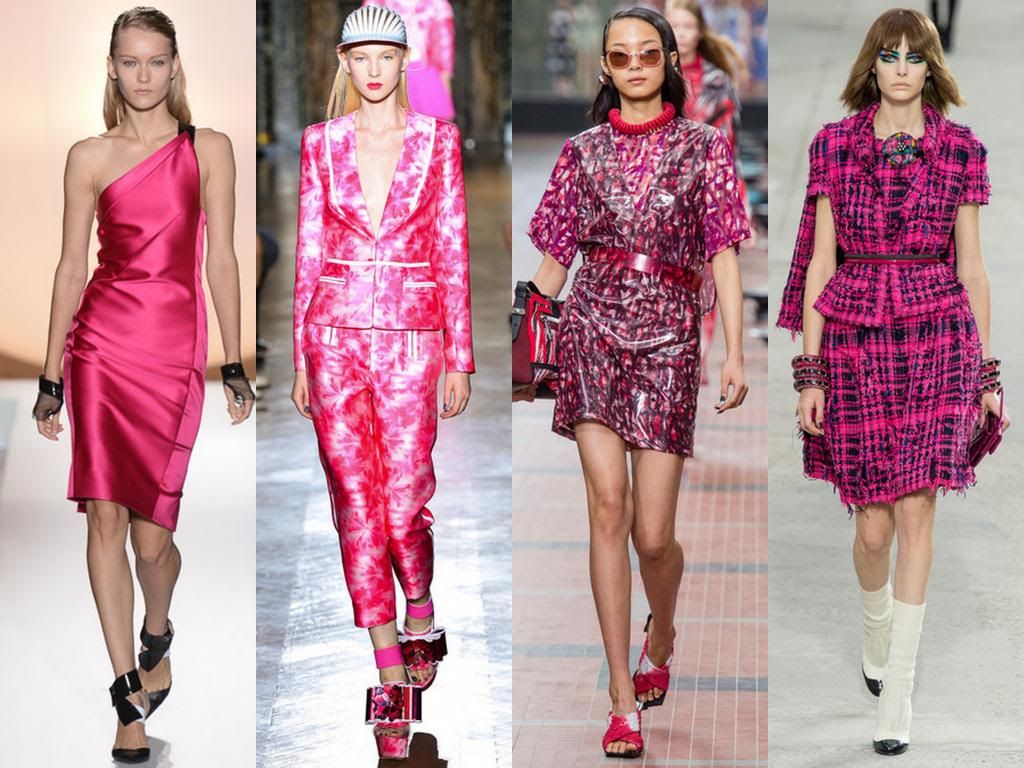 (Roland Mouret, John Galliano, Kenzo, Chanel)
Prism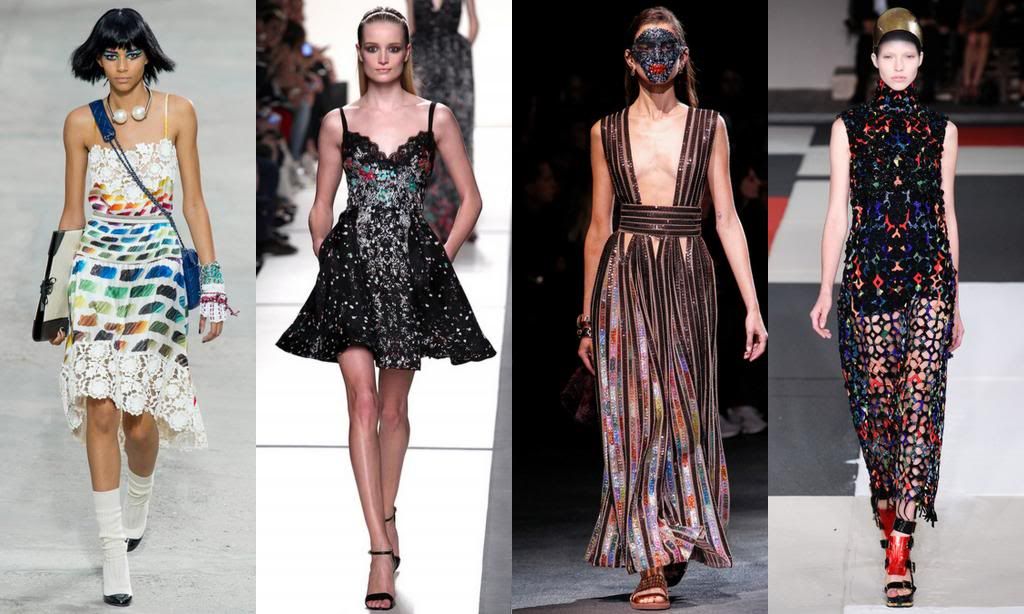 (Chanel, Elie Saab, Givenchy, Alexander McQueen)
Accessories
(Top row: Chanel, Saint Laurent, Louis Vuitton, Celine, Valentino, Viktor&Rolf / Bottom row: Christian Dior, Stella McCartney, Chloe, Chanel, Balmain)
THE BEAUTY:
(Top row: Lanvin, Stella McCartney, Chloe / Bottom row: Giambattista Valli, Christian Dior, Dries Van Noten)
Which collection was your favorite and which one was your least favorite?
Leave your lovely comments below!