I'm usually not the one to do a full best/worst dressed list but looking through the red carpet shots at the Golden Globes I felt compelled to.
But before we get deep into discussing hem lengths and shoe choices, I wanna express how overjoyed I feel that my favorite actress won Best Supporting Role in a Comedy (Jennifer Lawrence) and that one of my favorite films for the year that's passed, "American Hustle", won best Comedy/Musical. Very pleased also that Leo DiCaprio won a Golden Globe. The guy deserves all the awards. (Still waiting for that Oscar, though.)
First, let's start with the bad:
THE BAD:
Julia Roberts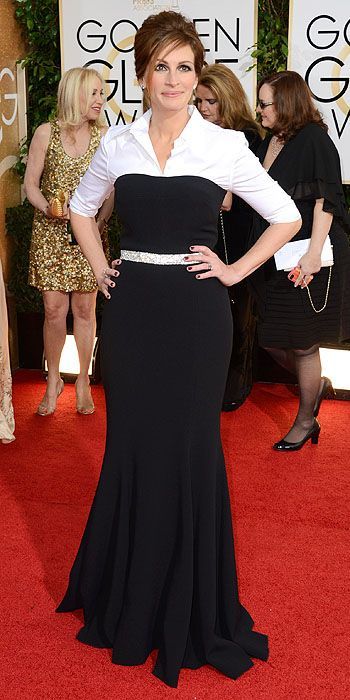 A definitive what-was-she-thinking moment. Her figure is smokin', don't get me wrong. But why is she looking so secretary-ish? The dress would be so much better without that white shirt. It wouldn't be a head-turner for sure, but at least she wouldn't end up on a worst-dressed list.

Edie Falco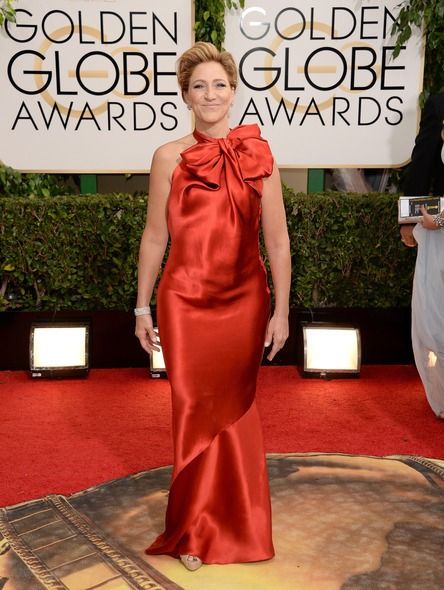 I really don't know where to start. There are just too many things that are wrong with this gown. The color is god-awful. The bow at the top makes her look like a very belated Christmas gift. The shiny fabric looks rather cheap -which oddly enough is probably not- and the shape isn't doing anything good for her body. Just bad, bad, bad all together.

Paula Patton

Definitely not THE worst look of the evening, but for me it was a no. The huge ruffles look unflattering and kinda messy. The hem length is also a little bit off-putting. Maybe I would have like this dress better as a shorter one. There is also something about maxi-dresses and platform shoes showing underneath that makes me very uneasy. Not her best moment.
and now THE WORST:
Lena Dunham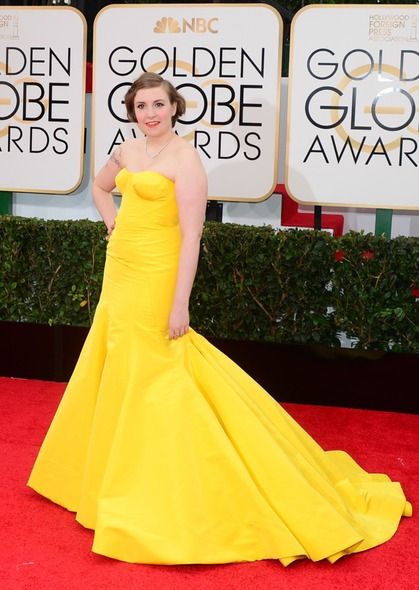 I'm so sorry, I just can't get over how bad this is! To be honest, Imma be a little mean, but I can't recall one time I saw this girl wear something that actually looks decent.The canary color is too cartoon-y for my taste and the shape of the dress makes her look like a sausage. I have nothing against more voluminous girls but this dress won't enhance those nice curves. It's not feminine or pretty or classy.
and now enough with the bad-mouthing, it's time for our eyes to rest
the GOOD:
Michelle Dockery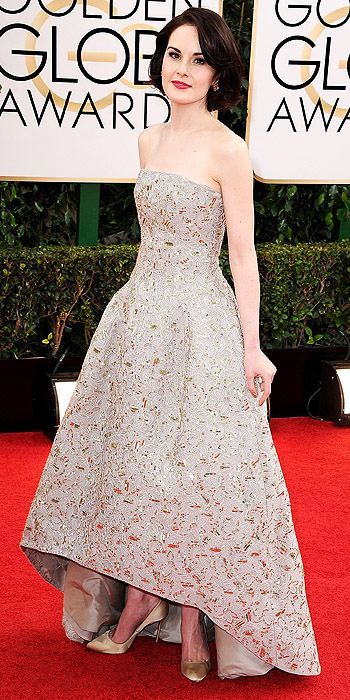 This woman is so classy and this look is a real winner. It is true, I have a soft spot for anything Oscar De La Renta but this gown is just so beautiful, so flawless it could make even the hardest of hearts shed a tear. The color is exceptional for her skin tone, the shoes are a perfect match, the makeup is classy, simple and radiant. Maybe the girls from the list above wanna take some notes.

Jennifer Lawrence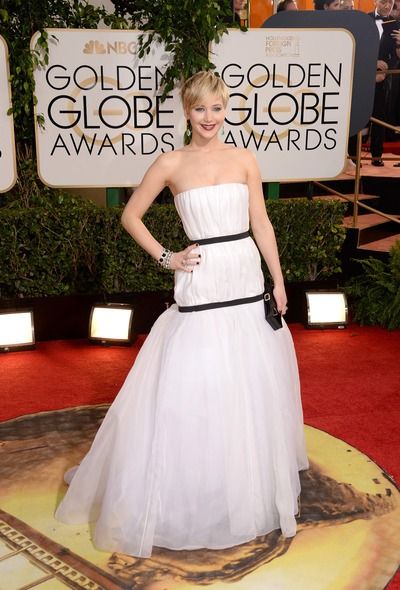 My girl! I love her enormously (but please, don't think I am biased in any way when I praise this look) and I am so thrilled she won -I mean, they'd be fools not to award her- and I'd love to crown her as THE best dressed celebrity of the evening but I have saved that title for another lady (I'm pretty sure Jen won't mind!). She looks gorgeous in that b&w Christian Dior Haute Couture gown, which was a rather bold choice that she definitely pulled off just fine. Trust me, this could've looked very wrong on someone else, but Jen just has that extra spice that makes everything better! There is something retro and romantic about this look but at the same time it's very fresh and fashion-forward. Talk about the perfect balance! (Can I also add that the accessorizing is flawless?)

Margot Robbie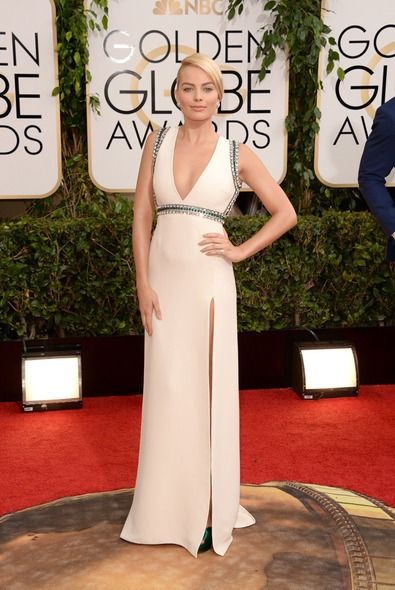 Is this the new Scarlett? I saw this girl first in "About Time" (lovely movie, check it out) and despite her bitchy character the one thing I noticed right away was how stunning she was. She looks uber-classy in that beautiful cream-colored gown with just the right amount of sexy. The color compliments her complexion and her makeup is divine. Greek goddess at her best.

Taissa Farmiga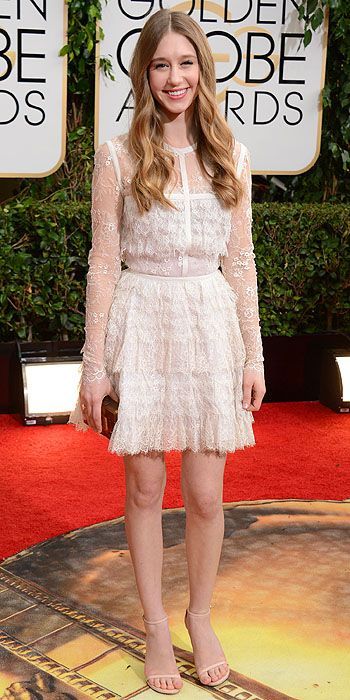 Young actress Taissa Farmiga looked so fresh and beautiful in this lacy white dress the way only a 20 year old could. Perfect choice for her and it was nice to see someone deviate from the typical princess-y red carpet floor-length gown.

Olivia Wilde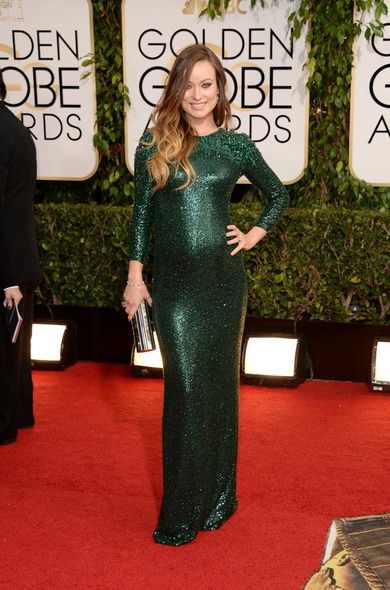 Olivia Wilde was sparkling all over, as that pregnancy glow makes her look all the more radiant. She was a sweetie in that emerald sequin Gucci dress which looked phenomenal against her skin tone and ombre locks. Definitely a look that made me smile.
and now, the BEST:

Cate Blanchett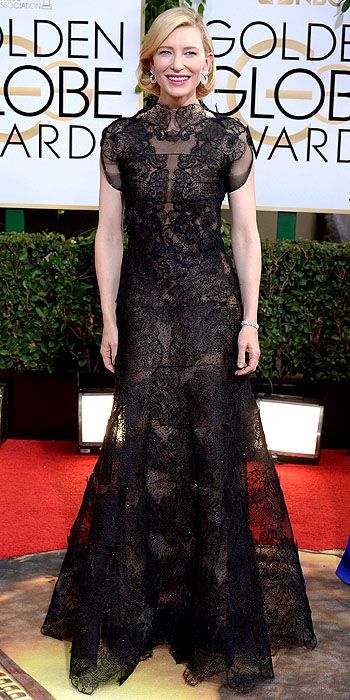 One more award for Cate's resume and very deservedly so. She was amazing in Woody Allen's "Blue Jasmine" but Cate ain't looking blue at all in this stunning black lace gown! She looks as classy and as elegant as ever. The sheerness of the fabric adds just the right amount of drama but without taking it too far and the accessorizing is spot-on. Beautiful, daring but age-appropriate and fitting too.
That's it, readers!
Our fashion recap is over!
(Actually, I could go on and on and on but ain't nobody got time for that so... there you have it!)
Leave your thoughts below!